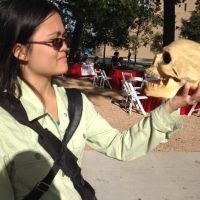 Caroline Cao
Join Date: Nov 30, 2016 • Last Entry Date: May 03, 2019 • Articles: 28
Caroline Cao is a Houstonian Earthling surviving under the fickle weather of Texas. When she's not angsting over her first poetry manuscript or a screenplay about space samurai, she's doing cheesy improv performances for BETA Theater, experimenting with ramen noodles, doing YouTube reviews of books, or hollering vocal flash fics on Instagram. Her aspirations in life include: becoming the next Margaret Atwood, mastering geekspeak, finishing everything on Netflix, completing Star Wars fanfiction, and mugging people with tickets to "Hamilton."
The (un)attainable floating kingdom in Hayao Miyazaki's CASTLE IN THE SKY.

Happy 12th Anniversary, AVATAR.

NEWSIES making front-page again.

How the pre-Ghibli masterpiece NAUSICAA: VALLEY OF THE WIND pollinated the Miyazaki trademarks.

And so the samurai endures long enough to see its fifth season.

Tracing the roots of I AM NOT YOUR NEGRO to a Civil Rights activist's unfinished memoir.

To its fans, THE LITTLE PRINCE had been snubbed.

Tracing the origin story of Barack and Michelle Obama.

A look at one of Miyazaki's masterworks.

To celebrate the 201st Anniversary of the publication of Jane Austen's EMMA, let's study the modern Emma, Cher of CLUELESS.