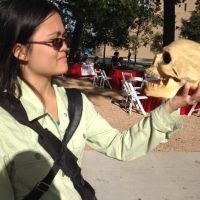 Caroline Cao
Join Date: Nov 30, 2016 • Last Entry Date: May 03, 2019 • Articles: 28
Caroline Cao is a Houstonian Earthling surviving under the fickle weather of Texas. When she's not angsting over her first poetry manuscript or a screenplay about space samurai, she's doing cheesy improv performances for BETA Theater, experimenting with ramen noodles, doing YouTube reviews of books, or hollering vocal flash fics on Instagram. Her aspirations in life include: becoming the next Margaret Atwood, mastering geekspeak, finishing everything on Netflix, completing Star Wars fanfiction, and mugging people with tickets to "Hamilton."
How August Wilson's classic play made it to cinema.

Oh, let JACKIE be a part of the narrative, or the narrative.

What we miss when Broadway productions like George Takei's ALLEGIANCE aren't slotted for the movie screen.

From Legends, to page, to comic, to TV, these STAR WARS characters deserve a shot at the big screen.

MOANA marks milestone of Queenhood in Disney Animation.