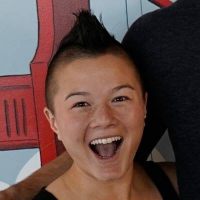 Dana Han-Klein
Join Date: Mar 26, 2018 • Last Entry Date: Jun 05, 2018 • Articles: 4
Dana Han-Klein is a mohawked movie reviewer, television addict, and interviewer of interesting individuals. When her eyes aren't glued to a screen she's found running stupid long distances so she can eat concessions without guilt. If she ever grows up she plans on being the first ever Jedi Knight/Starfleet Captain. She's on various forms of the interwebs as @thedhk.
Meet the unknown funny side of Fred Rogers in WON'T YOU BE MY NEIGHBOR.

That FLASHDANCE really got around.

Turns out, Tonya Harding (now Tonya Price!) is way funnier than you'd expect.