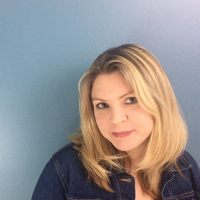 Emily Sears
Join Date: Nov 24, 2016 • Last Entry Date: Oct 21, 2019 • Articles: 122
Adam Driver and Scarlett Johansson bring compassion and humanity to Noah Baumbach's portrait of divorce.

VIRGINIA: Join us in November for three days of Matthew Modine movies and live Q&As!

Stephen Chbosky's powerful story reminds us of the highs and lows of growing up, and those special moments worth holding on to.

Carlo Mirabella-Davis turns an empathetic lens toward society's expectations of women.

Rose Glass secures a place in the horror genre with her tense, psychological debut.

Jay McInerney's unique novel is a fast-paced time warp back to the decadent nightlife of 1980s Manhattan.

VIRGINIA: It's time for another weekend packed with great films and fun at your local Alamo Drafthouse!

That time Angelina Jolie organized her very own female FIGHT CLUB.

From diamond heists and the Gimp to Nazis and Charles Manson, we'll always remember the first time we saw the phrase: Written and Directed by Quentin Tarantino.

The story continues, reminding us to do what we dream.

Austin Butler will play the King of Rock and Roll in a new biopic.