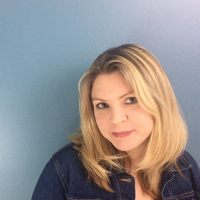 Emily Sears
Join Date: Nov 24, 2016 • Last Entry Date: Aug 16, 2018 • Articles: 53
A great cast struggles to find the romance.

The director's whimsical style is sure to be a hit in this genre.

We're into everything going on here.

A motley cast turns this aimless melodrama into a cinematic gem.

Cate Blanchett and Fred Armisen are gonna give performance art what-for.

Louisa May Alcott's cherished classic continues to welcome us home.

Shirley Jackson's controversial tale is headed to theaters.

A new music doc follows Joan Jett as she blazes a trail for women in rock and roll.

In which LOVE ACTUALLY co-stars Emma Thompson and Liam Neeson reunite to fight aliens.

In which Jodie Foster and Hillary Swank compete to don the cowl for DC.

Deborah Haywood talks about the therapeutic process of making her beautiful and brutal debut feature.