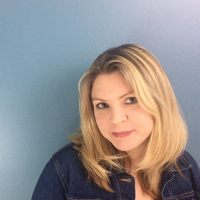 Emily Sears
Join Date: Nov 24, 2016 • Last Entry Date: Jul 31, 2019 • Articles: 115
That time Angelina Jolie organized her very own female FIGHT CLUB.

From diamond heists and the Gimp to Nazis and Charles Manson, we'll always remember the first time we saw the phrase: Written and Directed by Quentin Tarantino.

The story continues, reminding us to do what we dream.

Austin Butler will play the King of Rock and Roll in a new biopic.

Alice Waddington heads to paradise in her visually stunning debut.

40 years after the release of Joy Division's first album, we're listening a little closer to the words of Ian Curtis.

"No matter what anybody tells you, words and ideas can change the world."

In which Emily is still waiting for Hollywood to realize the untapped potential of V.C. Andrews.

On June 21st, Bo Peep returns and she's not playing around.

The King and Queen are coming to Downton!

In which Keanu Reeves answers fan questions while playing with puppies.