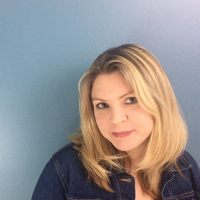 Emily Sears
Join Date: Nov 24, 2016 • Last Entry Date: Jun 06, 2019 • Articles: 109
"No matter what anybody tells you, words and ideas can change the world."

In which Emily is still waiting for Hollywood to realize the untapped potential of V.C. Andrews.

On June 21st, Bo Peep returns and she's not playing around.

The King and Queen are coming to Downton!

In which Keanu Reeves answers fan questions while playing with puppies.

Simon Pegg and Juno Temple battle the mental health system in this feature debut based on a true story.

An intimate look back at the life and times of this enigmatic and talented man, gone too soon.

The cast and crew reunite to share their fondest memories of making the movie that defined a generation.

Jeremy Gardner's follow-up to THE BATTERY is a somber love story with a twist.

Our old friends are on their way to some exciting new places.

Death comes for the maiden in this adaptation of the profound story by Joyce Carol Oates.