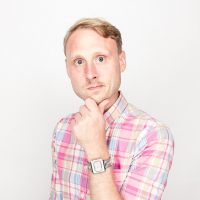 Senior Editor
Evan Saathoff
Join Date: Sep 15, 2011 • Last Entry Date: Mar 21, 2019 • Articles: 5007
Evan has been smartassing-up the Internet since 2008. His passions include dumb action movies, not-dumb action movies, Shakespeare, and Tyler Perry. While he claims to understand that people don't always get what they want, he nevertheless believes it would be "cool" if he could become more like Danny DeVito with age.
Put this one on your radar, folks.

Now it's going to be REALLY hard to stay unspoiled.

Introduced by the Wyld Stallyns themselves.

Everyone welcome Destin Daniel Cretton.

Will audiences accept this pretender to the throne?

And exclusively for Disney+?

Jesse Eisenberg is going to kick some ass.

And probably not in a good way.