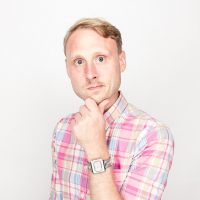 Senior Editor
Evan Saathoff
Join Date: Sep 15, 2011 • Last Entry Date: Oct 17, 2019 • Articles: 5227
Evan has been smartassing-up the Internet since 2008. His passions include dumb action movies, not-dumb action movies, Shakespeare, and Tyler Perry. While he claims to understand that people don't always get what they want, he nevertheless believes it would be "cool" if he could become more like Danny DeVito with age.
I will always believe Jason Bateman did it.

We gotta get a better title than that soon.

We're taking this one out with a bang.

You're gonna need a better game.

Zoe Kravitz enters the DCU.

Maybe some things don't need a reason to exist.

Your kids are going to love this.

Jesse Pinkman was always selling something.

That is both a good and a bad thing.

Let's hope this is a cause for celebration.