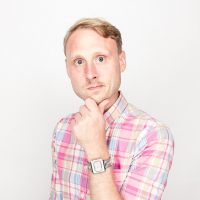 Senior Editor
Evan Saathoff
Join Date: Sep 15, 2011 • Last Entry Date: Aug 15, 2019 • Articles: 5175
Evan has been smartassing-up the Internet since 2008. His passions include dumb action movies, not-dumb action movies, Shakespeare, and Tyler Perry. While he claims to understand that people don't always get what they want, he nevertheless believes it would be "cool" if he could become more like Danny DeVito with age.
We'll just have to see how this goes.

This continues to look really impressive.

Everybody should see this film!

Can YOU wait 11.5 months?

A royal rumble with only one victor.

Along with a few other titles. And probably all of the titles, eventually.

Not everything is horrible.

The world grows more beautiful with each passing day.

Mom and dad, start booking your babysitter now.

The 1941 prequel you've been waiting for is almost here.