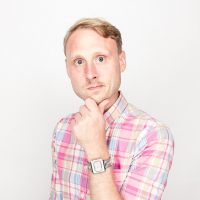 Senior Editor
Evan Saathoff
Join Date: Sep 15, 2011 • Last Entry Date: Aug 17, 2018 • Articles: 4804
Evan has been smartassing-up the Internet since 2008. His passions include dumb action movies, not-dumb action movies, Shakespeare, and Tyler Perry. While he claims to understand that people don't always get what they want, he nevertheless believes it would be "cool" if he could become more like Danny DeVito with age.
Get ready to dislike him.

This is not going to be a happy movie.

Chris Evans still undecided.

Gobs of people will probably see this film anyway.

If you forgot about it, go ahead and stay in that lane.

Ruby Rose is going to kill it.

The titan is coming home.

Pretty soon they will just have ALL their properties in development.

Also a reminder that they're making a Kraven the Hunter movie.

Thirteen-year-olds are gonna have their minds blown!