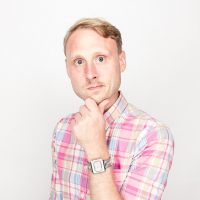 Senior Editor
Evan Saathoff
Join Date: Sep 15, 2011 • Last Entry Date: Jan 16, 2019 • Articles: 4940
Evan has been smartassing-up the Internet since 2008. His passions include dumb action movies, not-dumb action movies, Shakespeare, and Tyler Perry. While he claims to understand that people don't always get what they want, he nevertheless believes it would be "cool" if he could become more like Danny DeVito with age.
Get another look at everyone's face!

The two join a rapidly forming cast.

Only '90s kids will know!

Sex at the toy store. As you do.

The Fantastic Fest favorite is coming out sooooooon.

That's right, you heard me.

And don't even act like I'm wrong.

All hands on deck for Stephen Chow's latest.

A very close release date.