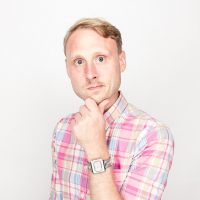 Senior Editor
Evan Saathoff
Join Date: Sep 15, 2011 • Last Entry Date: Jun 26, 2019 • Articles: 5112
Evan has been smartassing-up the Internet since 2008. His passions include dumb action movies, not-dumb action movies, Shakespeare, and Tyler Perry. While he claims to understand that people don't always get what they want, he nevertheless believes it would be "cool" if he could become more like Danny DeVito with age.
...Video Game, MYST The Ride, MYST The Form Of Water, MYST The ERY Science Theater 3000, MYST The...

Kill the humans. Crunch their bones between your teeth.

Always get your news from Gilbert Gottfried's podcast.

The Stephen King renaissance continues.

The gorgeous ladies are back!

What's real? What's an illusion? And should we be laughing?

Everybody stay calm and read carefully.

With friends like these who needs enemies?

Meet Raquel. Do not mess with her.

You may wish you were a ghost.