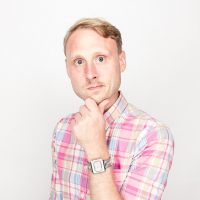 Senior Editor
Evan Saathoff
Join Date: Sep 15, 2011 • Last Entry Date: Jan 28, 2020 • Articles: 5298
Evan has been smartassing-up the Internet since 2008. His passions include dumb action movies, not-dumb action movies, Shakespeare, and Tyler Perry. While he claims to understand that people don't always get what they want, he nevertheless believes it would be "cool" if he could become more like Danny DeVito with age.
Benh Zeitlin's BEASTS OF THE SOUTHERN WILD follow up is beautiful but will be divisive.

You cannot escape the adorable sweetness of this movie.

You haven't seen this film before but you also kind of have.

And then slowly yanks it out.

The state of boys is bad. But the BOYS STATE is good.

Lawyers, here to save the world and make you feel bad about all those mean jokes.

Keep this lady away from those new STAR WARS rides.

What a full, curious and beautiful documentary.

Lance Henriksen gives his all in a film that doesn't deserve it.