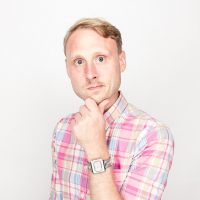 Senior Editor
Evan Saathoff
Join Date: Sep 15, 2011 • Last Entry Date: Feb 14, 2020 • Articles: 5304
Evan has been smartassing-up the Internet since 2008. His passions include dumb action movies, not-dumb action movies, Shakespeare, and Tyler Perry. While he claims to understand that people don't always get what they want, he nevertheless believes it would be "cool" if he could become more like Danny DeVito with age.
His codpiece is covered by the metal of the sewer grate his mother's pearls bounced into.

But, then again, everything Wes Anderson does is extra Wes Andersony isn't it?

It's time to become king of the forest.

The room where it happened was probably an entire bank.

Warning: from this point on, I will have no idea what I'm talking about.

Benh Zeitlin's BEASTS OF THE SOUTHERN WILD follow up is beautiful but will be divisive.

You cannot escape the adorable sweetness of this movie.

You haven't seen this film before but you also kind of have.

And then slowly yanks it out.