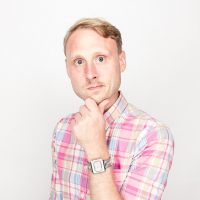 Senior Editor
Evan Saathoff
Join Date: Sep 15, 2011 • Last Entry Date: Jun 21, 2018 • Articles: 4732
Evan has been smartassing-up the Internet since 2008. His passions include dumb action movies, not-dumb action movies, Shakespeare, and Tyler Perry. While he claims to understand that people don't always get what they want, he nevertheless believes it would be "cool" if he could become more like Danny DeVito with age.
Start getting ready for this one.

This lineup is incredible.

Yes, this is a team-up scenario I will watch.

Well, it certainly looks like a Tyler Perry movie.

And she's recorded a very special message to let you know what happens if you don't.

This year's going to be nuts.

This show just can't catch a break.

This already sounded good. Now it's sounding great.

We now move from Jedi to troll.

We now move from grump to Jedi.

We now move from wolf to grump.