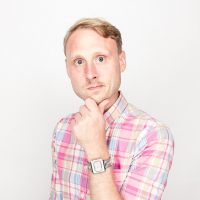 Senior Editor
Evan Saathoff
Join Date: Sep 15, 2011 • Last Entry Date: Sep 16, 2019 • Articles: 5202
Evan has been smartassing-up the Internet since 2008. His passions include dumb action movies, not-dumb action movies, Shakespeare, and Tyler Perry. While he claims to understand that people don't always get what they want, he nevertheless believes it would be "cool" if he could become more like Danny DeVito with age.
One of your friends is a poser asshole.

Now this is the movie I remember.

Spoilers, they got older.

Yes, please, let's get going on the Fuqua superhero film, thanks.

Alexander Skarsgård is your new The Walking Dude.

And THAT's why you always leave a note.

The Pork Chop Express comes home.

Please, can we get a real title for this show already?

You gotta do what you gotta do.