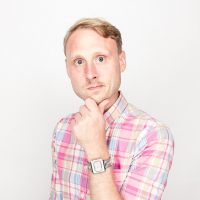 Senior Editor
Evan Saathoff
Join Date: Sep 15, 2011 • Last Entry Date: Dec 11, 2019 • Articles: 5256
Evan has been smartassing-up the Internet since 2008. His passions include dumb action movies, not-dumb action movies, Shakespeare, and Tyler Perry. While he claims to understand that people don't always get what they want, he nevertheless believes it would be "cool" if he could become more like Danny DeVito with age.
Unfiltered Bayhem from start to finish.

The long journey takes another step forward.

Steve Trevor can't tell art from a trashcan.

The SEVEN SAMURAI (minus five).

The best STAR WARS game out there gets even better.

When you have Richard Gere, Walton Goggins, Bradley Whitford and Peter Dinklage, do you need even ONE Christ?

This one directed by LITTLE MONSTERS' Abe Forsythe.