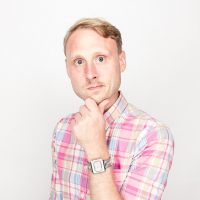 Senior Editor
Evan Saathoff
Join Date: Sep 15, 2011 • Last Entry Date: Feb 14, 2019 • Articles: 4980
Evan has been smartassing-up the Internet since 2008. His passions include dumb action movies, not-dumb action movies, Shakespeare, and Tyler Perry. While he claims to understand that people don't always get what they want, he nevertheless believes it would be "cool" if he could become more like Danny DeVito with age.
They should have just called this movie "Killingest".

"There's something off about Ma." Hey, maybe you're the problem, Kiddo.

But hey, that's not necessarily a bad thing.

From INFINITY WAR to just plain INFINITE.

August 30th – September 1st, be ready!

It almost looks like a doll is killing people or something.

A look at what to expect from the next big Stephen King adaptation.

And it's not who you'd expect.

And we honestly didn't mind.