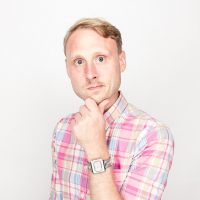 Senior Editor
Evan Saathoff
Join Date: Sep 15, 2011 • Last Entry Date: May 17, 2019 • Articles: 5072
Evan has been smartassing-up the Internet since 2008. His passions include dumb action movies, not-dumb action movies, Shakespeare, and Tyler Perry. While he claims to understand that people don't always get what they want, he nevertheless believes it would be "cool" if he could become more like Danny DeVito with age.
Get ready for another Penguin and Catwoman adventure.

I'm afraid only super smart people will be able to follow the metaphor here.

Mike Banning is on the lam, and you'll never guess who he runs into!

As opposed to untrue fiction.

The Sundance charmer is coming soon.

May 8 at the Regency Westwood Village.

A video tribute to eleven years of Marvel movies.

This one is actually for kids, though.

And this definitely sounds like it's in his wheelhouse.