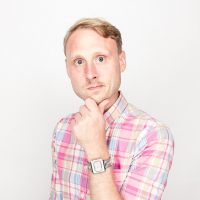 Senior Editor
Evan Saathoff
Join Date: Sep 15, 2011 • Last Entry Date: Dec 13, 2019 • Articles: 5259
Evan has been smartassing-up the Internet since 2008. His passions include dumb action movies, not-dumb action movies, Shakespeare, and Tyler Perry. While he claims to understand that people don't always get what they want, he nevertheless believes it would be "cool" if he could become more like Danny DeVito with age.
This one directed by LITTLE MONSTERS' Abe Forsythe.

Pure, solid two-player bliss.

Not Bad Santa but Sad Santa.

This guy knows a lot about murdering so don't piss him off.

Get ready for "Penguin is Daddy" memes galore.

This will be your day's best news.