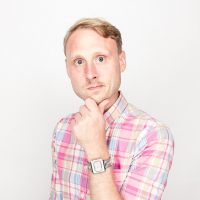 Senior Editor
Evan Saathoff
Join Date: Sep 15, 2011 • Last Entry Date: Oct 10, 2018 • Articles: 4865
Evan has been smartassing-up the Internet since 2008. His passions include dumb action movies, not-dumb action movies, Shakespeare, and Tyler Perry. While he claims to understand that people don't always get what they want, he nevertheless believes it would be "cool" if he could become more like Danny DeVito with age.
No idea what to think about this one.

It's amazing what some plot context will do.

But don't expect a copy of the Sundance hit.

An extended look at what James Wan has in store for us.

And if we're lucky… Lobo as well.

Unfortunately, it does not look like Lobo will be in this one.

I'm seeing double… FOUR Daredevils!

This movie is going to be a blast.