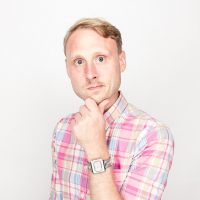 Senior Editor
Evan Saathoff
Join Date: Sep 15, 2011 • Last Entry Date: Dec 14, 2018 • Articles: 4914
Evan has been smartassing-up the Internet since 2008. His passions include dumb action movies, not-dumb action movies, Shakespeare, and Tyler Perry. While he claims to understand that people don't always get what they want, he nevertheless believes it would be "cool" if he could become more like Danny DeVito with age.
This is 47 down on my list of reboots I can't wait to see.

This movie is going to be nuts.

And it couldn't have happened to a nicer show!

Directed by Scott Aukerman!

How long before we get one of these for Cobra?

And there was much rejoicing.

So this all looks pretty nuts.

But is this a movie anyone really wants?

One day, I awoke and everything had become anime.

This is a weird one. But maybe not weird enough.