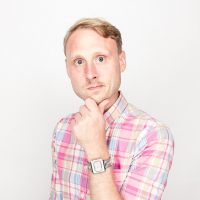 Senior Editor
Evan Saathoff
Join Date: Sep 15, 2011 • Last Entry Date: Aug 20, 2019 • Articles: 5176
Evan has been smartassing-up the Internet since 2008. His passions include dumb action movies, not-dumb action movies, Shakespeare, and Tyler Perry. While he claims to understand that people don't always get what they want, he nevertheless believes it would be "cool" if he could become more like Danny DeVito with age.
The 1941 prequel you've been waiting for is almost here.

The Thundergun Express has finally arrived.

It turns out being stuck on a deserted island really sucks.

Yes, one of them is of Nick Nolte.

Can one body hold the power of Iko Uwais AND Mark Dacascos?

And he is plenty jangly, let me tell you.

The most radical rewind-inclined weekend of your life!

Even your mom and even my dad.

And holy shit, Awkwafina will be in this!