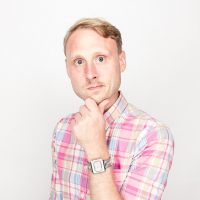 Senior Editor
Evan Saathoff
Join Date: Sep 15, 2011 • Last Entry Date: Jun 24, 2019 • Articles: 5108
Evan has been smartassing-up the Internet since 2008. His passions include dumb action movies, not-dumb action movies, Shakespeare, and Tyler Perry. While he claims to understand that people don't always get what they want, he nevertheless believes it would be "cool" if he could become more like Danny DeVito with age.
Another year, another great festival.

The CANNIBAL HOLOCAUST director bares all.

As expected, this film feels incomplete.

Get ready to fire up your Netflix September 20.

Start getting ready your "I told you so's".

But are they sour or what?

Good morning. Please enjoy THE LONELY ISLAND PRESENTS: THE UNAUTHORIZED BASH BROTHERS EXPERIENCE.

Okay everybody, let's do this dance again.

You must see this movie, by the way.

Oh, yeah. The movie is called TENET now.