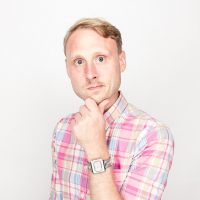 Senior Editor
Evan Saathoff
Join Date: Sep 15, 2011 • Last Entry Date: Apr 04, 2020 • Articles: 5338
Evan has been smartassing-up the Internet since 2008. His passions include dumb action movies, not-dumb action movies, Shakespeare, and Tyler Perry. While he claims to understand that people don't always get what they want, he nevertheless believes it would be "cool" if he could become more like Danny DeVito with age.
Next March is going to be a party.

Maybe they will fight the Coronavirus itself.

It's time to meet the greatest podcast of all time.

Help theaters, watch a new film, and alleviate boredom all in one go.

Raptors vs. Ingen is here!

Lemme tell you about this guy, Bosch…

If nothing else, at least THIS will be good.

Director Destin Daniel Cretton goes into self-quarantine.