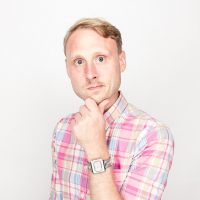 Senior Editor
Evan Saathoff
Join Date: Sep 15, 2011 • Last Entry Date: Apr 18, 2019 • Articles: 5052
Evan has been smartassing-up the Internet since 2008. His passions include dumb action movies, not-dumb action movies, Shakespeare, and Tyler Perry. While he claims to understand that people don't always get what they want, he nevertheless believes it would be "cool" if he could become more like Danny DeVito with age.
Yeah, people will be lining up to see this one.

And, uh, a Fathom Events release date.

This Disney+ thing is going to be nuts.

The saga concludes (hopefully)!

Warner Bros. must have really liked the first Shazam! film.

Let's hope that changes from "likely" to "definitely".

Was there ever any doubt?

Talk about some word soup.

Okay, let's see how this goes.