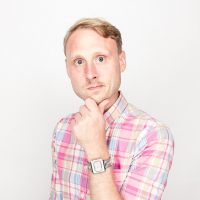 Senior Editor
Evan Saathoff
Join Date: Sep 15, 2011 • Last Entry Date: Feb 14, 2019 • Articles: 4980
Evan has been smartassing-up the Internet since 2008. His passions include dumb action movies, not-dumb action movies, Shakespeare, and Tyler Perry. While he claims to understand that people don't always get what they want, he nevertheless believes it would be "cool" if he could become more like Danny DeVito with age.
Hmmm… this show looks dark.

TANGO & CASH for a new era.

Here's your new go-to family Thanksgiving movie.

Meet the REAL Papa Roach.

Straight-up creature feature fun, right here.

Well THAT seems kind of like a big deal.

Like a ghost, you can almost see through this movie.

A dramedy far funnier and more idiosyncratic than it looks.

Work work work work life.

Get those expectations in check.