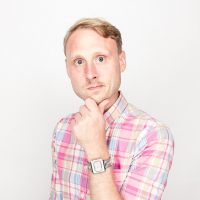 Senior Editor
Evan Saathoff
Join Date: Sep 15, 2011 • Last Entry Date: Oct 11, 2019 • Articles: 5221
Evan has been smartassing-up the Internet since 2008. His passions include dumb action movies, not-dumb action movies, Shakespeare, and Tyler Perry. While he claims to understand that people don't always get what they want, he nevertheless believes it would be "cool" if he could become more like Danny DeVito with age.
But you should definitely change that.

You'll laugh, you'll cry, you'll eBay a VCR.

A near perfect high-concept thriller arrives from Argentina.

He's really more of a butt man.

One of your friends is a poser asshole.

Now this is the movie I remember.

Spoilers, they got older.

Yes, please, let's get going on the Fuqua superhero film, thanks.