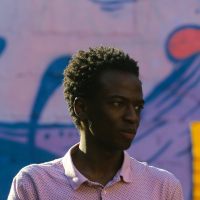 JM Mutore
Join Date: Aug 09, 2016 • Last Entry Date: May 29, 2020 • Articles: 123
JM Mutore was a carbon-based, NYC-based writer and film journalist. Our data shows he was confined to four dimensions, but through cinema, Frank Herbert, and Octavia Butler, he occasionally found freedom. Remnants of his consciousness can be located on Twitter (@JM3K).
"Why Gambino, why young guy? Why so generous?"

How Carl Lumbly's mystery character could complicate the MCU.

The Brazilian western that tore up last year's film festival circuit now has a U.S. release date.

We've taken all the wrong lessons from Heath Ledger's posthumous win eleven years ago.

Approximate air dates for FALCON & WINTER SOLDIER, WANDAVISION, and THE MANDALORIAN Season 2

The breakout character has come a long way.

Shout out to everyone who just had to explain Disney+ to their dad!

Here's your new glock-wielding family.

This franchise will outlive you and several coastlines.

There's been a disturbance in The Force.