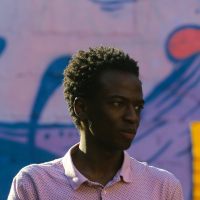 JM Mutore
Join Date: Aug 09, 2016 • Last Entry Date: Sep 13, 2019 • Articles: 72
JM Mutore was a carbon-based, NYC-based writer and film journalist. Our data shows he was confined to four dimensions, but through cinema, Frank Herbert, and Octavia Butler, he occasionally found freedom. Remnants of his consciousness can be located on Twitter (@JM3K).
'90s X-Men! '90s Spider-Man! '90s hair metal theme songs!

Now who's a chump for reading FIRE & BLOOD? Take that, Mom!

A Black Bonnie and Clyde movie? Sure, hand it over!

It's Watches all the way down.

Kinda like how most of us won't sign up to SEE this show.

Destin Daniel Cretton wants us to sob with his new legal drama.

I don't think we should expect to see the Shogun of Harlem.

And it hits theaters May 2022.

The custody battle gets bigger and bigger.

Probably not the feel-good movie of the year.