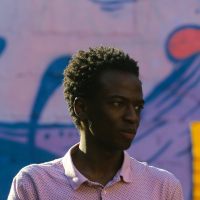 JM Mutore
Join Date: Aug 09, 2016 • Last Entry Date: May 29, 2020 • Articles: 123
JM Mutore was a carbon-based, NYC-based writer and film journalist. Our data shows he was confined to four dimensions, but through cinema, Frank Herbert, and Octavia Butler, he occasionally found freedom. Remnants of his consciousness can be located on Twitter (@JM3K).
A retrospective review of Martin Scorsese's overlooked jazz musical.

It might also have a release year.

The year 2022 can either come too soon or not soon enough.

Let's watch the first trailer for the Barry Jenkins-penned Baltimore biker drama.

With MORBIUS, Sony is finally making good on their threats of a SPIDER-MAN Villains Universe. But is the MCU getting dragged into it?

Batman, meet Winged Helmet Lightning Man.

Expect to see some hot witch-synthezoid action in 2020.

A look at some of the characters who will remain in our heads long after 2019 is over.

The screenwriter won't talk about it now, but he will "in a couple of months."

This single-take social issue drama is gripping from start to finish.

This is why you don't want to overdose on Nostalgia, kids.