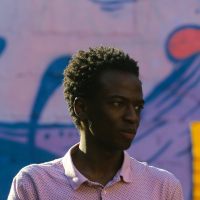 JM Mutore
Join Date: Aug 09, 2016 • Last Entry Date: Nov 20, 2019 • Articles: 100
JM Mutore was a carbon-based, NYC-based writer and film journalist. Our data shows he was confined to four dimensions, but through cinema, Frank Herbert, and Octavia Butler, he occasionally found freedom. Remnants of his consciousness can be located on Twitter (@JM3K).
Faith in New Orleans is engrossingly captured in this teenager's debut feature.

This will probably make some heads turn.

An indigenous Canadian zombie movie with teeth to spare.

We'll miss you, dank corridor fights and vauge allusions to the Hulk.

China's censorship committee is not being very chill right now.

For anyone who wants to watch a three-hour trailer for a streaming service.

We spoke with the filmmakers behind 1917 to learn how they made a war film in a single-take.

A boarding school drama that returns horror and voodoo to the zombie playbook.