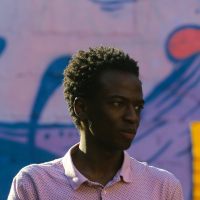 JM Mutore
Join Date: Aug 09, 2016 • Last Entry Date: May 29, 2020 • Articles: 124
JM Mutore was a carbon-based, NYC-based writer and film journalist. Our data shows he was confined to four dimensions, but through cinema, Frank Herbert, and Octavia Butler, he occasionally found freedom. Remnants of his consciousness can be located on Twitter (@JM3K).
Hollow characters stall this modern Bonnie and Clyde story.

They haven't given up hope.

No comment from his superstache though.

Forget it, Jake. It's a Netflix series.

Marvel Studios lays out their plans for streaming in promo form.

or, Once Upon A Time In Silent Hollywood

The character looks better, but nothing else does.

We don't know this actor yet, but we think we know who she's playing.

In which the line between film franchise and TV series blurs completely.

That's the one about the Targaryens, for those keeping score.

This one's for the weirdos.