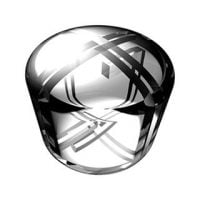 Jof Gurd
Join Date: Mar 14, 2017 • Last Entry Date: Jan 15, 2020 • Articles: 63
The product of a steady diet of pulp SF, modern history, abstract art and electronic music you can't dance to, jof lives in a city which was in his blood before he was even thought of, where the past and future are rarely far away, even the imaginary ones.
As Daniel Craig pokes a little fun at his most famous role.

Youngest Bond title song singer ever? Sure, why not?

Just when you thought they didn't have time for another twist.

One writer's journey to higher dimensions and levels of understanding.

A rhapsody in blue, lots of guns too.

The rumor mill starts up, gets shot down.

Get ready to go behind the scenes of the motion picture formerly known as BOND 25.

Its place as a footnote in movie history is assured, but this historical movie's a dud.

One of Steven Soderbergh's most formally experimental films is also his most sentimental.

The satirical world of THE DAY SHALL COME writer/director Chris Morris.