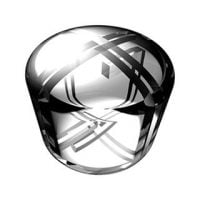 Jof Gurd
Join Date: Mar 14, 2017 • Last Entry Date: Jun 21, 2018 • Articles: 24
The product of a steady diet of pulp SF, modern history, abstract art and electronic music you can't dance to, jof lives in a city which was in his blood before he was even thought of, where the past and future are rarely far away, even the imaginary ones.
The expanded and interlinked mythos of BLADE RUNNER and BLADE RUNNER 2049.

Androids and Precogs, and Arnie, oh my! One author's many worlds as a case study in cinematic adaptation.

A hitman's search for self and redemption in suburbia. Welcome back, Pointers!

Reality happens in between the frames of Antonioni's existential classic.

Feeling the love in Anthony Minghella's masterpiece.

What's in the box when Gwyneth Paltrow gets quantum mechanical.

Finding the balance between privacy and security in an uncertain world.

A deep dive into James Cameron's classic.

COLOSSAL and the rehabilitation of a dying genre.