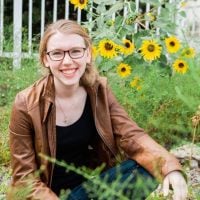 Kristen O'Neal
Join Date: Jan 10, 2017 • Last Entry Date: Feb 24, 2020 • Articles: 34
Kristen O'Neal (@Kristen_ONeal) is an NYC-based writer who was raised on The Twilight Zone and Hitchcock films, forever cementing an obsession with weird and biblical storytelling. You can find more of her work in publications like Christianity Today, Relevant Magazine, and LitHub.
What if this movie's not as bad as it looks?

"You don't have to be afraid."

Holy exposition, Batman (or Professor X?)

The devil you know is actually way, way worse.

David learns to play the banjo.

Wednesday is karaoke night.

The best fever dream you've never had.

David Oyelowo and Rosamund Pike shine in this historical romance.

The director explains why adapting SILENCE was so important to him.

The legendary actor discusses his latest role.