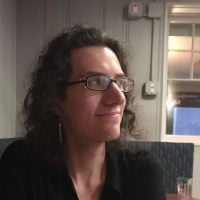 Leigh Monson
Join Date: Dec 28, 2016 • Last Entry Date: Jan 16, 2019 • Articles: 174
Leigh Monson is technically a licensed attorney but somehow thinks movies are a lot more fun. Leigh loves both award darlings and hilariously bad films, does not believe in superhero movie fatigue, and calls it like they see it.
Joe Cornish has made a film to inspire the next generation, and he succeeds with a magician's flourish.

This remake of the already shaky THE INTOUCHABLES is a blunt, cringeworthy dud.

This anime classic deserves a second life as a parable of sexual liberation

A by-the-numbers tale of friendship is elevated by some excellent performances.

2019 kicks off with a pretty solid horror film.

This slow burn bursts forth with surprising bouts of intensity.

Who would've thought that fixing a franchise based on action figures would depend on appealing to children? It just boggles the mind.

Who's excited for two hours of an old conservative dude telling you to go f*ck yourself?

This tale of two queens is worthwhile, if a bit familiar in the presentation.

There is so much going on under the hood here that you probably just need to see it yourself.