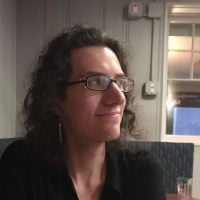 Leigh Monson
Join Date: Dec 28, 2016 • Last Entry Date: Mar 14, 2020 • Articles: 300
Leigh Monson is technically a licensed attorney but somehow thinks movies are a lot more fun. Leigh loves both award darlings and hilariously bad films, does not believe in superhero movie fatigue, and calls it like they see it.
Real chemistry allows the queer community to read between the lines.

Just put the man in whatever stupid sci fi you can, please.

There's untapped potential in this Jane Austen adaptation

The Yukon Mountains meet the Uncanny Valley.

It's Valentine's Day! Let's talk about ethical non-monogamy.

Fans of '90s-era Jim Carrey rejoice!

But unlike Sam Elliott, he did not kill Hitler.

Surprise! It's not JOKER.

Let's talk about sexploitation, baby.

In which the Bad Boys become Good Men.

Take a hilariously surreal trip down the analog dreams of your youth.