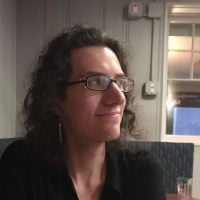 Leigh Monson
Join Date: Dec 28, 2016 • Last Entry Date: Sep 24, 2018 • Articles: 134
Leigh Monson is technically a licensed attorney but somehow thinks movies are a lot more fun. Leigh loves both award darlings and hilariously bad films, does not believe in superhero movie fatigue, and calls it like they see it.
This vicious satire of Hollywood disability representation forces you to differentiate empathy and pity.

The director of HOUSE OF FLYING DAGGERS can still deliver the goods.

This Quebecois update of LYSISTRATA takes on slut shaming.

It's pretty much exactly what it says on the label.

Is it a good movie? Who cares?

The persona of internet celebrity takes on a life of its own.

Eli Roth made an Amblin kids' movie, and he actually pulled it off!

The line between civilization and savagery is thinner than we'd like to think.

Stanley Kubrick's black comedy places masculine ego and sexual insecurity in the crosshairs.

The darker side of Paul Feig looks an awful lot like the lighter side of Paul Feig.

Alright, Michel, we'll bite. What are you cooking up this time?