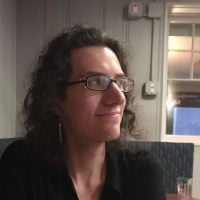 Leigh Monson
Join Date: Dec 28, 2016 • Last Entry Date: Jul 17, 2018 • Articles: 98
Leigh Monson is technically a licensed attorney but somehow thinks movies are a lot more fun. Leigh loves both award darlings and hilariously bad films, does not believe in superhero movie fatigue, and calls it like they see it.
Prepare for EIGHTH GRADE by looking back at some of cinema's most awkward high school moments

Wait, wait - hear us out.

Poe Dameron leads a fantastic cast in a film from the creator of THIS IS US.

Goes to show that you shouldn't expect JOHN WICK just because Keanu shows up in a suit.

A character designed to sell soda gets his own surprisingly decent movie.

The movie featuring a demon-slaying clown is even weirder than you'd suspect.

Comedy is the perfect balm for troubled times.

...CHOSEN BY THE HOLY STORSH

He plays a young Danny Sexbang. Yes. That's the lead singer's name.

Look, it's worth it just to see Christopher Plummer deal pot.