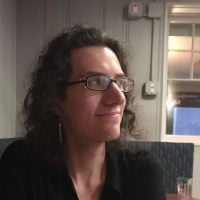 Leigh Monson
Join Date: Dec 28, 2016 • Last Entry Date: Sep 18, 2019 • Articles: 253
Leigh Monson is technically a licensed attorney but somehow thinks movies are a lot more fun. Leigh loves both award darlings and hilariously bad films, does not believe in superhero movie fatigue, and calls it like they see it.
When you're a sinner, might as well sin.

Brooklyn horror fans have a real treat in store for them!

The impossible novel proves too unwieldy for adaptation.

Relationships are hard even without kink involved.

Gavin Hood's investigative procedural is a timely reminder of deep state corruption.

If you are or have ever been on the cusp of turning thirty, consult this movie immediately.

Headlocks, handshakes, and hugs.

Bryan Fuller, what did you do?

Centering Cate Blanchett is never a bad idea.

Alright. Let's talk about straight people.

Well this looks charming as all get out!