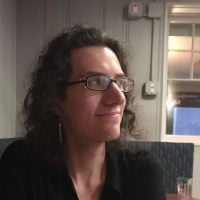 Leigh Monson
Join Date: Dec 28, 2016 • Last Entry Date: Nov 17, 2018 • Articles: 158
Leigh Monson is technically a licensed attorney but somehow thinks movies are a lot more fun. Leigh loves both award darlings and hilariously bad films, does not believe in superhero movie fatigue, and calls it like they see it.
Jason Reitman's second movie of the year is yet another near miss.

It's pretty much exactly what it says on the label.

Tarantino's historical revisionism is a prime example of why Nazi revenge fiction is important.

And why that's not a bad thing.

An uneven character study is singlehandedly elevated by Rosamund Pike.

Evil lurks under the surface of this stop-motion allegory.

Disney's latest fantasy "epic" is a cynical and unnecessary retread.

Yorgos Lanthimos' most accessible film may be his best.

Barry Jenkins and James Baldwin are a match made in heaven.

Writer-director Joel Edgerton has made some quality Oscar bait.

Just hold the damn camera still!