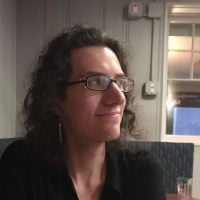 Leigh Monson
Join Date: Dec 28, 2016 • Last Entry Date: Mar 25, 2019 • Articles: 202
Leigh Monson is technically a licensed attorney but somehow thinks movies are a lot more fun. Leigh loves both award darlings and hilariously bad films, does not believe in superhero movie fatigue, and calls it like they see it.
Twenty years makes a real difference in understanding the Wachowskis and myself.

David Lynch has a suitably surreal take on Hollywood and the nature of performance.

Duncan Jones' MOON is getting a sweet look behind the scenes.

Sebastián Lelio certainly has a niche, but that doesn't mean he's content to stagnate.

This Netflix Original can't decide whether to serve or subvert its target audience.

When you think of documentaries, they don't normally look quite like this.

Looks like Deadshot was a one-shot.

Dreamworks Animation's best franchise comes to a close with what may be its best installment.

Decimate your office Oscar pool like a snap-happy Thanos.

Ruminations on what it means to be critic-proof.