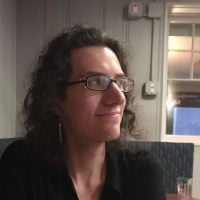 Leigh Monson
Join Date: Dec 28, 2016 • Last Entry Date: Oct 13, 2019 • Articles: 264
Leigh Monson is technically a licensed attorney but somehow thinks movies are a lot more fun. Leigh loves both award darlings and hilariously bad films, does not believe in superhero movie fatigue, and calls it like they see it.
Let's talk about childhood crushes.

This year's Mickey Reece picture is much more accessible.

Sometimes the hunt is less important than the hunter.

At the intersection of TWIN PEAKS and HEATHERS is the voice of something new.

Coming of age means learning to embrace what is different about each of us.

That is NOT how anti-depressants work.

All you have to do to make a difference is some clowning around.

Perhaps the real daddy was the dads we met along the way.

Hollywood's most notorious scream king has a story to tell.

Just wait until this one goes right off the deep end.

And a solid reminder of why I don't want kids!