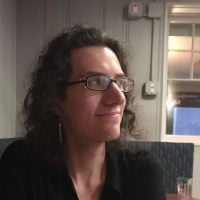 Leigh Monson
Join Date: Dec 28, 2016 • Last Entry Date: Aug 21, 2019 • Articles: 245
Leigh Monson is technically a licensed attorney but somehow thinks movies are a lot more fun. Leigh loves both award darlings and hilariously bad films, does not believe in superhero movie fatigue, and calls it like they see it.
Headlocks, handshakes, and hugs.

Bryan Fuller, what did you do?

Centering Cate Blanchett is never a bad idea.

Alright. Let's talk about straight people.

Well this looks charming as all get out!

A rote story of finding one's creative voice is elevated by an understanding of how teenagers relate to their icons.

Great performances let down by story compressed for time.

André Øvredal's previous film shows exactly why he's suited to tell SCARY STORIES.

Wait… so, it's NOT a comedy?

And perpetual enabler Greg Sestero helps Tommy get a bit musical.

Cyberpunk's relationship to the trans community is more than aesthetic.