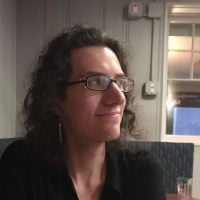 Leigh Monson
Join Date: Dec 28, 2016 • Last Entry Date: Jul 03, 2019 • Articles: 233
Leigh Monson is technically a licensed attorney but somehow thinks movies are a lot more fun. Leigh loves both award darlings and hilariously bad films, does not believe in superhero movie fatigue, and calls it like they see it.
Come for the dildo-knife, stay for the deconstruction of queer art.

Setting sail on the seas of misogyny.

But it looks as though its pleasures are here to stay.

Of course one of the only non-binary characters in pop culture is a doll.

Neither "Final" nor the seventh installment, but certainly a remake.

Mindy Kaling's screenplay bridges a gap between two kinds of humor.

Dean Yurke's bitter little horror thriller makes for a satisfying morality play.

Wanna know what all the buzz is about?

The fertile soil of this narrative yields just enough fruit.

Takashi Miike's remake of a classic is as much a classic in its own right.

Sam Raimi's last horror feature as director makes us miss live-action cartoon horror.