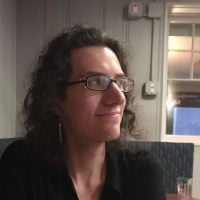 Leigh Monson
Join Date: Dec 28, 2016 • Last Entry Date: Jul 18, 2018 • Articles: 99
Leigh Monson is technically a licensed attorney but somehow thinks movies are a lot more fun. Leigh loves both award darlings and hilariously bad films, does not believe in superhero movie fatigue, and calls it like they see it.
Close the door, get off the floor, I can't believe dinos made me this bored.

The best of intentions are buried in blatantly manipulative appeals to tradition.

But hey, at least the movie is super funny!

Is Simon's story a form of queer erasure?

Remember when summer movies used to be about just having fun?

But that voice cast is super solid.

VOLUME ONE felt fresh and unique. VOLUME TWO… not so much.