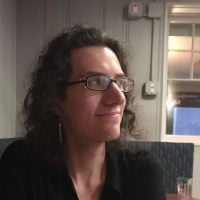 Leigh Monson
Join Date: Dec 28, 2016 • Last Entry Date: Mar 16, 2019 • Articles: 201
Leigh Monson is technically a licensed attorney but somehow thinks movies are a lot more fun. Leigh loves both award darlings and hilariously bad films, does not believe in superhero movie fatigue, and calls it like they see it.
Steve McQueen and Gillian Flynn have some thoughts about why the different sexes commit crimes.

This movie actually almost earns the line "I'm with her."

We sure hope you like imperiled children!

Kathryn Bigelow's cult classic is a not-so-subtle allegory for drug abuse.

Not so much a remake as a reloaded reimagining.

Brag to your friends about what a smart ol' cinephile you are.

Our yearly thought experiment runs into the usual hiccups of measuring faithfulness to source material.

After this, I'm feeling a little lost myself.

This TWILIGHT ZONE riff is light on substance but rich in atmosphere.

In which crude presentation gives way to hateful thought.