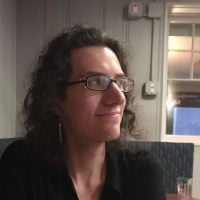 Leigh Monson
Join Date: Dec 28, 2016 • Last Entry Date: May 24, 2019 • Articles: 223
Leigh Monson is technically a licensed attorney but somehow thinks movies are a lot more fun. Leigh loves both award darlings and hilariously bad films, does not believe in superhero movie fatigue, and calls it like they see it.
Y'all think the blood in this movie is some kinda brutal metaphor or something?

The controversy is deeper than expected in this lesbian romance that was banned in Kenya.

Formula is the vessel through which style prevails over substance.

There's absolutely no way there isn't a four hour cut of this movie out there, right?

Won't somebody think of the poor white supremacist?

Sometimes it's helpful to remember that movies are made by real people.

Before you see DUMBO, take a brief look at the trend that got us here.

Methinks Tim Burton would rather be making a BIOSHOCK movie.

Twenty years makes a real difference in understanding the Wachowskis and myself.

David Lynch has a suitably surreal take on Hollywood and the nature of performance.