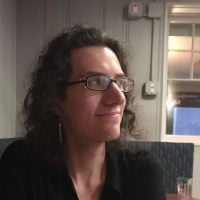 Leigh Monson
Join Date: Dec 28, 2016 • Last Entry Date: Jan 14, 2020 • Articles: 292
Leigh Monson is technically a licensed attorney but somehow thinks movies are a lot more fun. Leigh loves both award darlings and hilariously bad films, does not believe in superhero movie fatigue, and calls it like they see it.
Clint Eastwood's best film since SULLY comes with some caveats.

Peter Strickland tries giallo on for size.

Let's get Patience Robinson-Campos a new liver!

The spy thriller genre is sillier and more insidious than you remember.

Rian Johnson's con artist movie is secretly a movie about movies.

Even Todd Haynes at his most conventional is excellent.

This movie's got twenty-one problems, and a bridge ain't one.

Say hello to BEASTS OF 42ND STREET.

Experimentation is the key to self-love.

In which Taika does the right thing.

It's good. We're not lying!