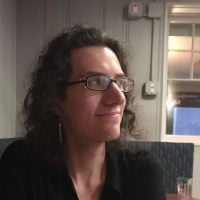 Leigh Monson
Join Date: Dec 28, 2016 • Last Entry Date: Jan 16, 2019 • Articles: 174
Leigh Monson is technically a licensed attorney but somehow thinks movies are a lot more fun. Leigh loves both award darlings and hilariously bad films, does not believe in superhero movie fatigue, and calls it like they see it.
There is so much going on under the hood here that you probably just need to see it yourself.

Formula and platitudes aren't mutually exclusive with genuine heart.

The head of Fox News was just as big a piece of garbage as you already knew.

Our ol' buddy Phil is up to some shenanigans again.

When Luca Guadagnino makes a recommendation, you listen.

The first in a line of new FIREFLY novels makes it feel like the show never left.

Japan's submission to the Academy Awards this year is a real powerhouse.

Let us loop you in on a little something.

Jason Reitman's second movie of the year is yet another near miss.

It's pretty much exactly what it says on the label.

Tarantino's historical revisionism is a prime example of why Nazi revenge fiction is important.