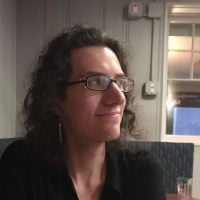 Leigh Monson
Join Date: Dec 28, 2016 • Last Entry Date: Jul 03, 2019 • Articles: 233
Leigh Monson is technically a licensed attorney but somehow thinks movies are a lot more fun. Leigh loves both award darlings and hilariously bad films, does not believe in superhero movie fatigue, and calls it like they see it.
This live action remake is somewhat at odds with itself but succeeds where it attempts originality.

Demonic sexual liberation in the era of family values.

A kid's gotta have a best friend, right?

Kenneth Branagh gives a remarkably restrained homage to his idol.

Leigh lucked out in getting to review their favorite episode of the season.

Hulu's miniseries is as hilarious and heartbreaking as you'd hoped.

The live-action Pokémon movie hits a sweet spot between fan service and impenetrable pandering.

Or maybe it's commentary on Pokémon? Either way, this shit's wild.

This one was a favorite at last year's Fantastic Fest.

Goes to show that a movie doesn't need sweeping aspirations to be great at what it wants to do.

Leigh's still trying to figure this one out.