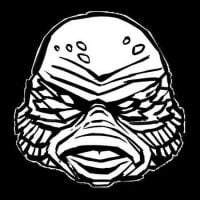 News Editor
Scott Wampler
Join Date: Mar 23, 2012 • Last Entry Date: Sep 18, 2019 • Articles: 3942
Scott Wampler is an online film blogger, Podcast host, and man of constant sorrow living in Austin, TX. His likes include CREATURE FROM THE BLACK LAGOON, the filmography of David Lynch, and the conspicuous consumption of alcohol. Dislikes include people and unfrosted Pop-Tarts.
We have no idea how this is gonna pan out and that's VERY exciting.

So. You purchased a badge to Fantastic Fest 2019.

We watched two classics with an absolute legend, and now we have the video proof.

Vincenzo Natali's Stephen King/Joe Hill adaptation looks just about perfect.

A new BATTLESTAR is headed to NBC's Peacock streaming service.

We don't know anything about 'em yet, but we're hyped.

André Holland and his family get into a BATTLE AT BIG ROCK.

The director of 3 FROM HELL talks comebacks, what his remake of THE BLOB would've looked like, and much more.

And you know what that means.