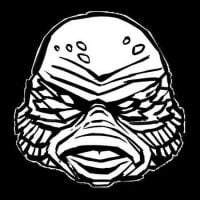 News Editor
Scott Wampler
Join Date: Mar 23, 2012 • Last Entry Date: Oct 19, 2018 • Articles: 3254
Scott Wampler is an online film blogger, Podcast host, and man of constant sorrow living in Austin, TX. His likes include CREATURE FROM THE BLACK LAGOON, the filmography of David Lynch, and the conspicuous consumption of alcohol. Dislikes include people and unfrosted Pop-Tarts.
Here's your open thread for discussing Michael Myers' latest shenanigans.

Surprise: our old pal Daniel Danger had another NIN print up his sleeve.

Maybe we shouldn't be so quick to write this one off. Or maybe we should. Who even knows anymore.

In which Peter Parker drops in on JIMMY KIMMEL LIVE.

Well, this sounds....uh....

This is our kind of ridiculousness.

A new book will tell the tragically timely tale of Milicent Patrick, the woman who created the CREATURE.

"Don't be sad / be glad / be happy for me."