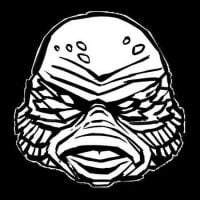 News Editor
Scott Wampler
Join Date: Mar 23, 2012 • Last Entry Date: Mar 26, 2019 • Articles: 3571
Scott Wampler is an online film blogger, Podcast host, and man of constant sorrow living in Austin, TX. His likes include CREATURE FROM THE BLACK LAGOON, the filmography of David Lynch, and the conspicuous consumption of alcohol. Dislikes include people and unfrosted Pop-Tarts.
I'M THINKING OF ENDING THINGS just keeps sounding better and better.

Let's take a look back at some of cinema's other famous doubles.

In which BILL & TED FACE THE MUSIC gains a familiar face.

"Sir, please remove yourself from that landmark."

By request, here's this weekend's designated spoiler space for US.

This movie is absolutely not what you thought it was.

Now here's an exciting choice.

The pilot for Amazon's DARK TOWER series now has a Roland and a Flagg.

Needless to say, we're in.