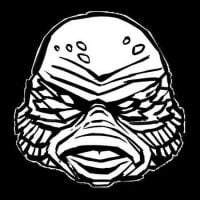 News Editor
Scott Wampler
Join Date: Mar 23, 2012 • Last Entry Date: Nov 08, 2019 • Articles: 4034
Scott Wampler is an online film blogger, Podcast host, and man of constant sorrow living in Austin, TX. His likes include CREATURE FROM THE BLACK LAGOON, the filmography of David Lynch, and the conspicuous consumption of alcohol. Dislikes include people and unfrosted Pop-Tarts.
It's a new thriller in the vein of GREEN ROOM. Get hyped.

Leigh Whannell's latest looks timely AND terrifying!

Pete Docter's latest looks like another homerun.

It's Richard Stanley! Doing Lovecraft! With Nic Cage! Get in here!

In which BEASTS OF THE SOUTHERN WILD's Benh Zeitlin returns.

So, does this mean Affleck's gonna be hanging out in Austin?

This one goes from "Sure, okay" to "WTF" in record time.

Welp, they're finally doing it.

Big words from the Master of Horror.

The master of mo-cap may be your new Alfred Pennyworth.