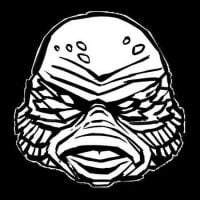 News Editor
Scott Wampler
Join Date: Mar 23, 2012 • Last Entry Date: Jun 03, 2020 • Articles: 4323
Scott Wampler is an online film blogger, Podcast host, and man of constant sorrow living in Austin, TX. His likes include CREATURE FROM THE BLACK LAGOON, the filmography of David Lynch, and the conspicuous consumption of alcohol. Dislikes include people and unfrosted Pop-Tarts.
In which Christopher Nolan's latest continues to pull back the curtain.

For the next 18 weeks, we're gonna party like it's the summer of 2017.

And just wait'll you hear what it's about.

Please enjoy Lynch's FIRE (POZAR).

We suppose we shouldn't be surprised.

In which Scott and Eric talk to a dude who knows a thing or two about werewolves.

We still don't know what they look like, but they sure spent a lot of time making 'em.

BONUS: All proceeds go to benefit food banks in the markets in which NIN would've played!

John Carlucci and Brandon LaGanke's comedy was headed for a big SXSW premiere. And then...well, you know.

Including one directed by ATTACK THE BLOCK's Joe Cornish.