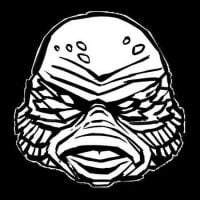 News Editor
Scott Wampler
Join Date: Mar 23, 2012 • Last Entry Date: Oct 16, 2019 • Articles: 3983
Scott Wampler is an online film blogger, Podcast host, and man of constant sorrow living in Austin, TX. His likes include CREATURE FROM THE BLACK LAGOON, the filmography of David Lynch, and the conspicuous consumption of alcohol. Dislikes include people and unfrosted Pop-Tarts.
You don't know. We don't know. Nobody knows.

In which Jaume Collet-Serra makes a Disney movie.

This shit is gonna be crazy.

Welcome to the Stephen King multiverse, Clive Owen.

Come get your YA horror fix, for the low low price of "totally free".

One half of the duo behind SWISS ARMY MAN made his own movie, and we talked to him about it!

We're only about a year away from the Next Gen.

Would you trust this man during a zombie apocalypse?