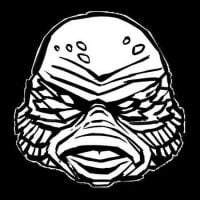 News Editor
Scott Wampler
Join Date: Mar 23, 2012 • Last Entry Date: Jan 23, 2020 • Articles: 4172
Scott Wampler is an online film blogger, Podcast host, and man of constant sorrow living in Austin, TX. His likes include CREATURE FROM THE BLACK LAGOON, the filmography of David Lynch, and the conspicuous consumption of alcohol. Dislikes include people and unfrosted Pop-Tarts.
Which, by the way, is called THE GREAT MACHINE.

Well THIS is a pretty damn good idea.

Probably won't look like this, though.

We dare you to ignore the Peacock now.

Behold, GOLDMAN VS. SILVERMAN.

Let's all take deep breaths, we can get through this.

Maybe that's more WATCHMEN. Maybe it's something else. You don't know, and neither do they.

This movie is one wild-ass ride.

This one's a real looker (and just wait'll you see the Variant version).