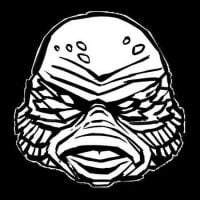 News Editor
Scott Wampler
Join Date: Mar 23, 2012 • Last Entry Date: Oct 23, 2018 • Articles: 3259
Scott Wampler is an online film blogger, Podcast host, and man of constant sorrow living in Austin, TX. His likes include CREATURE FROM THE BLACK LAGOON, the filmography of David Lynch, and the conspicuous consumption of alcohol. Dislikes include people and unfrosted Pop-Tarts.
Well, this sounds....uh....

This is our kind of ridiculousness.

A new book will tell the tragically timely tale of Milicent Patrick, the woman who created the CREATURE.

"Don't be sad / be glad / be happy for me."

Karyn Kusama's latest looks relentless. We can't wait.

* = Possibly not the actual title

This thing's gonna be so dark, you won't even be able to handle it.

Holy shit, are we bored with this topic.

In which WB bumps the red speedster's solo film into 2021.