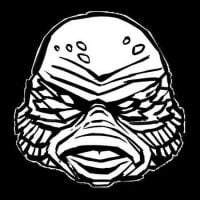 News Editor
Scott Wampler
Join Date: Mar 23, 2012 • Last Entry Date: Dec 09, 2019 • Articles: 4092
Scott Wampler is an online film blogger, Podcast host, and man of constant sorrow living in Austin, TX. His likes include CREATURE FROM THE BLACK LAGOON, the filmography of David Lynch, and the conspicuous consumption of alcohol. Dislikes include people and unfrosted Pop-Tarts.
Signed by Patrick Schwarzenegger and director Adam Egypt Mortimer!

In which Natasha Romanoff finally gets her own Marvel movie.

That's right - it's a Timed Edition.

The full trailer will be along presently.

And you can read 'em right now.

This one's got more twists than a gosh darn pretzel.

Sounds like a TENET prologue is headed to select theaters next month.

It's a good time to be a Reznor/Ross nerd.

Universal's got INVISIBLE fever, and the only prescription is more invisibility.

Albert Hughes will put a new spin on Andrew Davis' 1993 classic.