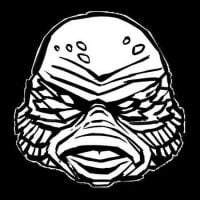 News Editor
Scott Wampler
Join Date: Mar 23, 2012 • Last Entry Date: Jun 03, 2020 • Articles: 4323
Scott Wampler is an online film blogger, Podcast host, and man of constant sorrow living in Austin, TX. His likes include CREATURE FROM THE BLACK LAGOON, the filmography of David Lynch, and the conspicuous consumption of alcohol. Dislikes include people and unfrosted Pop-Tarts.
Dave Bautista is even funnier than we give him credit for.

And yet, there are no small parts.

Why make CAPONE? What's Tom Hardy like? And where's that $10M? Find out inside.

The Oscar winner's latest is headed to Netflix next month.

And it'll happen after Miller's THREE THOUSAND YEARS OF LONGING.

We want to talk about Stephen King with you.

Joe Dante! Ice-T! GWAR! Phil and Meredith! Get in here!

It's Hill and King doing DUEL, basically. You gonna say no to that?

Josh Boone's perpetually delayed film now scheduled for release this August.

Behold, the first trailer for JEFFREY EPSTEIN: FILTHY RICH.