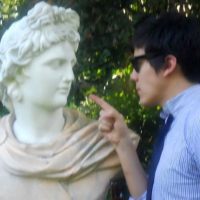 Trey Hilburn
Join Date: Jan 17, 2017 • Last Entry Date: Jul 16, 2017 • Articles: 25
I grew up in-between the aisles of a video store. After a VIDEODROME inspired sequence, I have officially become one with different film and videogame formats. I'm a writer over at iHORROR and I have accidentally kicked two sharks and lived. Tweet me something not too judgy @Zombiesvespa.
This is excellent casting.

In which Moffat pulls one last fast one.

You are gonna need a breather after this one.

In which Capaldi goes full on dad.

Turns out humans are way bigger jerks than Ice Warriors.

In which the Doctor admits his contempt for people who talk in cinemas.

In which DOCTOR WHO makes us feel bad for characters in video games.

DOCTOR WHO proves the corporate world is scarier than zombies.

Only DOCTOR WHO is capable of making oak walls spooky.

A film ahead of its time.