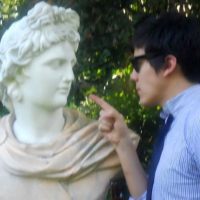 Trey Hilburn
Join Date: Jan 17, 2017 • Last Entry Date: Jul 16, 2017 • Articles: 25
I grew up in-between the aisles of a video store. After a VIDEODROME inspired sequence, I have officially become one with different film and videogame formats. I'm a writer over at iHORROR and I have accidentally kicked two sharks and lived. Tweet me something not too judgy @Zombiesvespa.
Where The Doctor reminds you that he is the ultimate Artful Dodger.

Where we are reminded that most adorable things in DOCTOR WHO will murder you.

Well, now I'm forever cautious of puddles.

From F-18 programming, to experimental animation, to SILICON VALLEY.

The more Sharlto the better.

Viya con Dios, Fox pilot.

1955 was the original year of ride or die, you guys.

The Wachowskis sure did love them some GHOST IN THE SHELL, you guys.

It involves being sewn up in a dead horse.

A history of Wolverine's many wardrobe changes.

White Zombies, Alien Imposters and Roommates. Oh my!